I have been struggling lately with getting my strength workouts done. Maybe lately is not the right word. More like forever.
For some reason, as easy as it is for me to get motivated to do my other workouts, I moan and groan about even a short core workout and, more often than not, usually end up finding some reason not to do it. I have been wondering lately why it is I do this.
An excuse I often use is time, which really is just a load of crap. A core workout or a quick TRX workout doesn't even take half an hour. It's definitely not a time issue.
I think I am a little bit scared - I know it's going to hurt!! I need to remind myself that it is only temporary. I also think strength workouts remind me of how weak I am!! Maybe I need to focus more on how much I really need to do them!
For some reason, the idea of becoming stronger just doesn't seem to be enough motivation for me. As much as I want to be toned and see my abs, it still doesn't get me going. In this case, I think I might need a little more extrinsic motivation.
A couple of ideas that came to mind are:
hiring a trainer. I actually think this would work best for me, but unfortunately it is just not in the budget right now.
finding a workout partner that I can lift with once a week.
taking a class at the gym. This would probably be fairly easy, but then there is the whole time thing.
creating some sort of online accountability through twitter or facebook.
give myself a reward for completing a certain number of strength workouts.
So, with the exception of hiring a trainer I think all of these are going to be avenues I will pursue in my quest for strength starting with a reward. I put out a question yesterday on twitter asking people what splurge they would give themselves. Apparently my twitter friends are very fond of wine and pretty toes, but I don't think that will do it for me! I tried to think of something I have been wanting for a while, but just haven't gotten because I didn't really need it, and it came to me!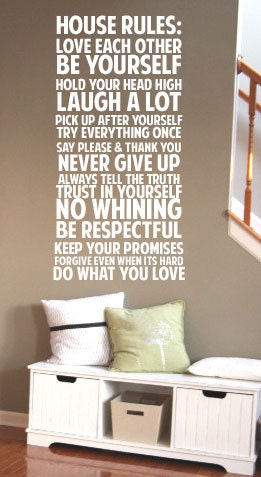 I have been wanting a wall decal like this for over a year to put in my hallway. We were at Target yesterday and saw a similar picture and it jogged my memory, so the challenge is on! If I can complete 8 strength workouts in April, I will reward myself with this House Rules sticker for my wall! I have already completed one this month...only seven to go!! I'll keep you posted!
What motivates you to get your strength workouts done?
"She girds herself with strength (spiritual, mental, and physical fitness for her God-given task) and makes her arms strong and firm."
Proverbs 31:17 Amplified