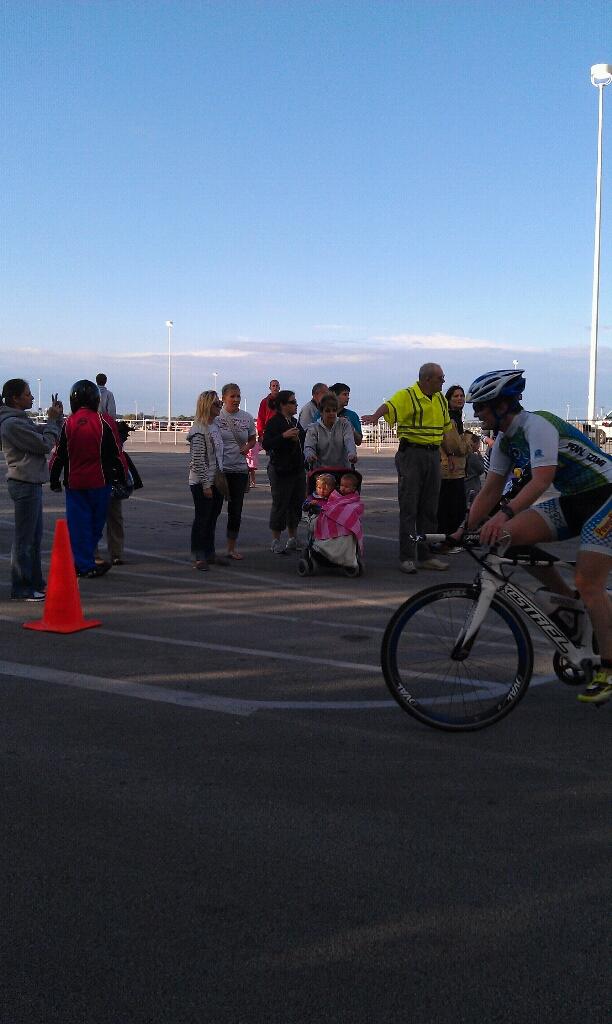 With lots of cheers from Kel, I was off on the second leg of my day's journey. The morning was actually a bit chilly, but since the sun was out I decided against arm warmers. My arms were totally fine, but my toes were a little numb for the first hour or so. I wasn't too worried about that since I knew I would have plenty of time to get warmed up.
My plan was to go pretty easy for the first two hours, take it up a tiny bit for the second 2 hours, and then for the final 2+ hours take it up one more notch. The hardest part about a plan like this is accepting the fact that you will be getting passed...a lot. In the first 22 miles I got passed by 82 people. In the next 26 miles I got passed by 19 more people. I was totally prepared for all the passing. Really. I was doing great. I did speed up to pass a herky-jerky guy during the first 10 miles or so. He was just making me nervous. I was so worried he was just going to fall over. After that, I was content to stick in my HR zone and watch everyone go by. That is until a very large man with a very large belly passed me while we were going up a hill. At that point, I have to admit, my ego took a bit of a blow. I sped up (outside of my HR zone) and passed him handily. "Ah. Now I'm good, " I thought, until he passed me again about 2 minutes later. I just had to let it go. I didn't see him again until special needs where I noticed him standing next to his bike on the ground eating a hamburger. True story.
Speaking of special needs, the funniest story of the day happened here. My volunteer was a teen-aged boy, probably about 14 or 15. You could tell he was not one of the cool kids, so I immediately bonded with him in my heart. He was holding my bag as I was digging through. I grabbed my waffle, my extra bottle, sprayed some sunscreen and then grabbed the most desired thing in the bag - my lube. Then I realized what I was about to do in front of this innocent child. I said, "I'm so sorry for what I'm about to do in front of you." He graciously turned his head and turned bright red while I stuck my hand down my shorts! There was a woman witnessing the whole thing and she was cracking up. I asked her if she was his mom, and she said no, but that she would let his mom know what a gentleman he was!! Hysterical!
I was also able to ride a bit (legally, of course) with my teammate, Jamie, who was also doing her first full. She was cracking me up because I passed her at an aid station with some concern because she was stopped. After she caught up to me, she said she was just turning on her phone so she would have some tunes!! We had a nice laugh about that and were able to leap frog each other until special needs. A lot of my thoughts during this first part of the ride were centered around how excited I was to be doing this. I was all smiles and having a blast.
Just before special needs, I had started to pick it up a bit and this was a bit of a hard patch. I was keeping within a very tiny HR zone, and it was a challenge to stay right inside of it. There was also quite a bit of wind at this point as well. I don't think I was able to execute this portion quite like I wanted to and ended up riding a bit easier than I had planned, although it was at this point that I started to pass people, which was a big boost. I passed a church with a sign that said "Are you ready?" And I yelled, "I am so ready!!" There was also quite a bit of wildlife to keep us entertained. I remember passing an alpaca farm, what I think was a llama, some clydesdales (horses - not men), some miniature horses (so tiny and strange), a candy corn family, and a lady dressed like a cow.
Right before the beginning of the second loop, Chris McDonald flew by me on his way towards the run and that gave me some energy to forge ahead to the second loop. Around mile 80, I took it up another notch and really started flying by people, mostly men, but also a few women. I was getting a bit fatigued and noticed that if I sat up my right knee was feeling very tight. That had me a bit worried, but I just focused on staying in aero position as much as possible, because that didn't bother me at all. At this point, I really felt like I was working. I had been staying right on top of my nutrition (thanks,
PowerBar
!!) and was still feeling good, but when I passed the "Are you ready?" sign, I answered with a "Yes! I am ready to be off this bike!" It's amazing how your perspective changes after 5 hours. :) I stayed steady with my nutrition, kept pushing, and worked really hard to keep pushing ahead. As I rode the last 5 miles towards transition, I kept thinking that I was very proud of my effort and my pacing. Just for a bit of perspective, I started the bike as the 12th overall woman. In the first half 10 women passed me. In the second half, I passed 9 of them back. Bam!
I was so happy to see the roller coasters of the park in the distance. I readied my mind and my body. Feet out of the shoes, smile on my face, slow down and off the bike, and it's time to run!!
to be continued...